We have shared a lot of articles about product details before. This article will analyze the British market from the products of the perspective of our ten years of foreign trade experience, hoping to give more customers some reference. There may still be many deficiencies to improve, please kindly advise us.

There are various methods and styles of cake boxes. They can also be made into many different styles and colors. Sometimes, changing one detail can make a big difference between one box and another box.
Therefore, in general, if the cake box needs to be customized, we would advise the customer to take a picture of the box expansion as clear as possible to see the structure of the box, so that we can make a knife mold drawing against the picture and then customize the knife mold.
If it is a really complicated design and structure, it is better to send a sample to us so as not to make mistakes.
In terms of the UK market, the biggest thing we do at the moment is a cake box with separate lid and pop-up cupcake boxes. The following will analyze one by one.
Cake box with separate lid
Unlike from South American countries, British customers like to make custom cake boxes with separate lids. There are printing designs, gold-stamping designs, embossed designs, the lid and the box body are often different designs.
We met a British customer before. He just sent the box sample to us for confirmation. It's exactly that the lid and the box body have a different design, and want to see if we can make the same product for them. In the early stage, we also sent the sample to him for confirmation several times.
After three months, the customer was finally satisfied with the final design and then ordered the mass products. In addition to detailed product requirements, he will also be accurate to how the inches on the carton mark should be expressed, whether they should be expressed in inches or in conformity.
British customers also pay attention to the texture of the box. When negotiating the first quotation, we usually have negotiated all the details, including the thickness of the paper, the material, the structure design of the box, etc., which requires us to improve our professional knowledge.
Although we have 10 years of experience, we still need to continue to learn and accumulate if we want to take root.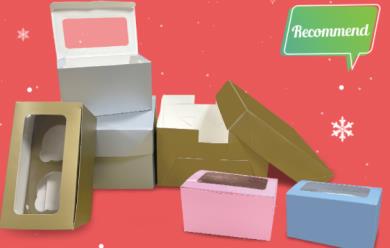 For a while last year, there was a pop-up cupcake box that sold very best-selling on Amazon. We received many inquiries from Amazon customers one after another, including some from the UK.
However, due to the fierce competition, even if the cost price was given, the customers still thought it was too expensive, and finally the order was not accepted. Instead, we sold a lot of our regular pop-up cupcake boxes.
There is also a British customer mischievously and self-mockingly said that she thought British people were lazy, so pop-up cupcakes would sell better. So she bought tens of thousands of cupcake cases from us, and she kept ordering them. 
After this battle, we also understand that it is not necessary to always follow the trend to sell products, but to constantly precipitation, improve our own technology and ability.
For this kind of pop-up cupcake box, we have 3 colors and 4 sizes in stock at present. We can also help customers customize 24 holes and other sizes and colors. If you need them, you can consult us directly.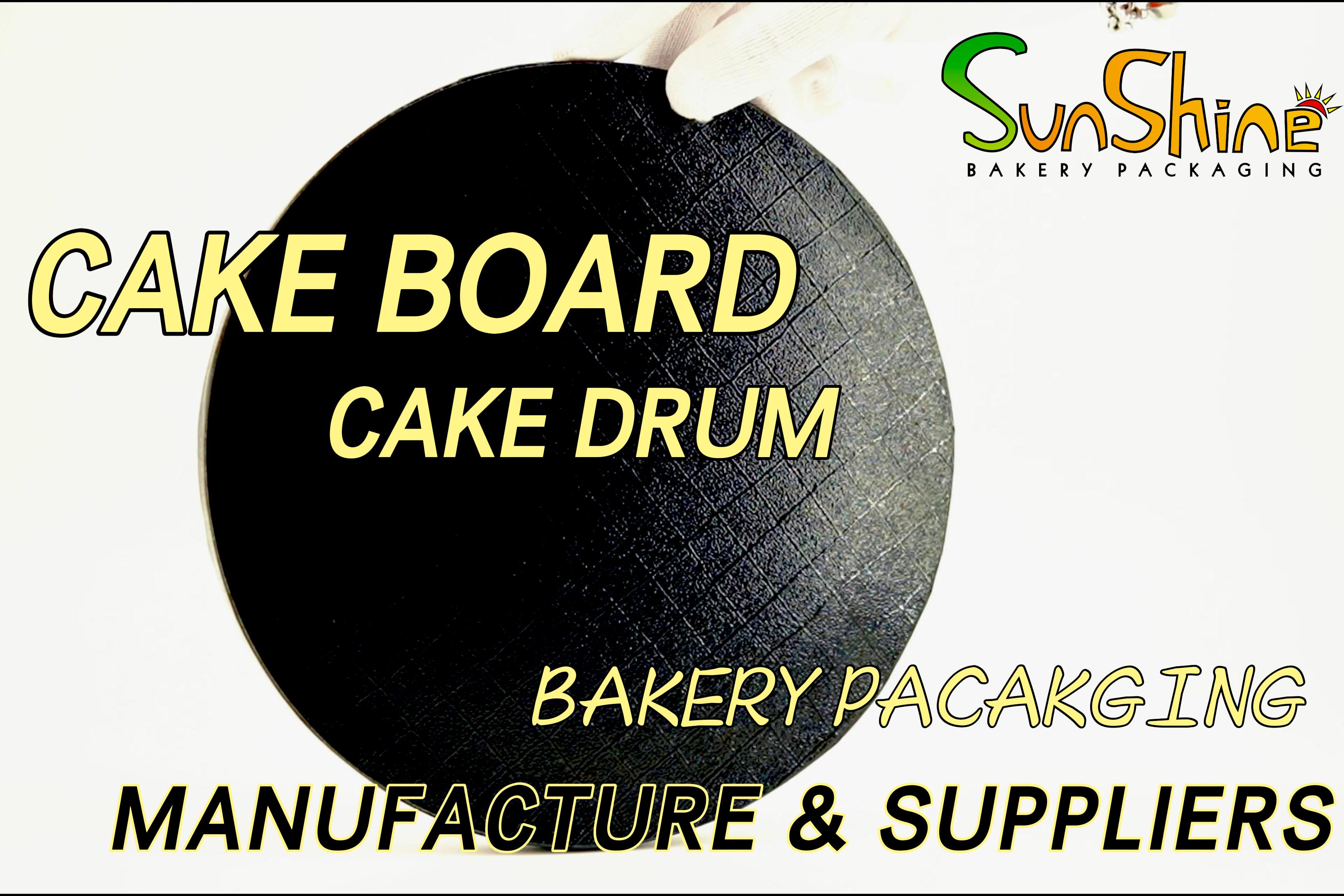 Our best-selling cake boards are cake drums, MDF cake board, and cake base board. In the UK, the best-selling cake boards are cake drums and MDF cake boards. We have introduced each type of cake board in detail before. Today, we will briefly introduce the details of the cake boards and focus on the analysis of customer preference.
Corrugated cake drums are divided into two kinds, the smooth edge and the wrapped edge, and there are also two kinds of materials.
Some British customers like the smooth edge hard cake drum and some like the wrapped edge or the smooth edge of the ordinary material. Now we have some Ready-to-ship goods for the smooth edge and the wrapped edge of the ordinary material.
If you still want to buy some products to prepare for other festivals, you can contact us to place an order. Every time to the end of the year, the Ready-to-ship goods are very scarce. 
If you are interested, you must not miss. You can take a 12mm grape pattern cake drum with different colors, there are white color, silver color and gold color. And many British customers will choose white and silver more. Now the 12 inch is almost sold out. If you want more, you may have to wait a while.
For this cake board, British customers like embossed design on face paper to make its logo more concave and convex. In addition, the matte white MDF cake board is also very popular. 
And for the thickness, 5mm and 6mm are very popular. They're very strong and stable for you to hold the cake very heavy. If you also would like to take thicker one to hold more heavier the cake, also can try to get our 9mm MDF cake board, it can even hold 15kg of the cake or heavier products.
At present, we have a colored MDF cake board in Ready-to-ship on sale. There are white marble, black marble, grass printing, sugar printing and wood printing design. If you have any interests, you can also consult us.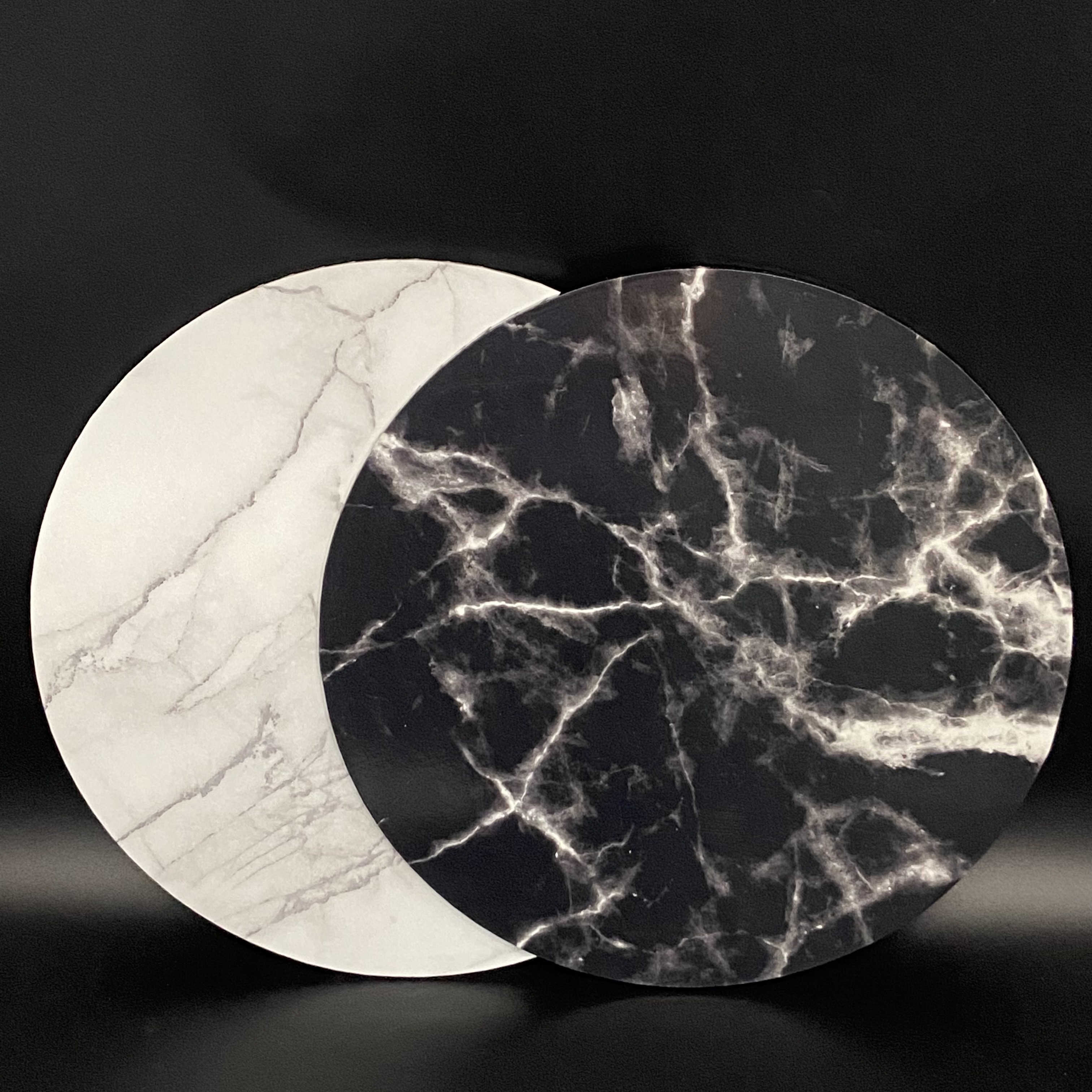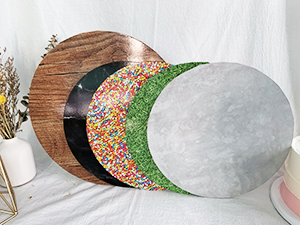 There are also many other related bakery products on sale for British customers, just not as best-selling as these cake boxes and cake boards. ​The products are still waiting for us to explore, I also think the British market is very big, and we are also very glad to work with them. If you have any interest in learning more about the products, just send any inquiries to us directly.
---
Post time: Dec-14-2022