MASONITE CAKE BOARD CUSTOM
Sunshine Bakery Packaging is one of the famous cake board manufacturers and suppliers in China.
For 9 years, we have provided cake decorating supplies to home decorators, bakeries and cake shops around the world.
We have all the essentials for your cakes, cupcakes, cookies or any other dessert gift item.
--Reusable moisture proof MDF cake board
--A simple, reliable and versatile choice for any occasion.
--Available in a variety of sizes, colors, shapes to meet all needs
--One of the most beautiful and stunning ways to showcase your work
--Passed the SGS test report, completely food safety
--Buy more discount, factory wholesale price
China mdf masonite cake board are sturdy, beautiful and affordable. The unique, beautiful and elegant designs of our Sunshine Masonite cake boards are perfect for wedding cake designs, birthdays, anniversaries and more.
The white 8-inch china mdf cake board round is an excellent choice for small and heavy cakes, safe and stable.
China Masonite cake boards factory, professional in food grade MDF cake board, safe and environmentally friendly.
This white 10" masonite cake board is very simple and elegant. Suitable for all types of event parties.
MDF cake board factory,custom MDF cake board,free design & free sample & free custom scheme.
China best sell mdf cake board 12 inch, provide different shapes mdf cake board to meet customer's needs.
Wholesale round MDF cake boards in various sizes, colors, thicknesses to meet every customer needs.
Advantages Of wholesale cake board MDF
As a manufacturer and supplier of MDF cake boards in China, the china mdf cake board we produce are also extremely moderate in density, and have excellent dimensional stability and are not easily deformed, which provides safety for the transportation of cakes. If you need custom masonite cake boards wholesale or price list of cake board mdf please send email to contact us.
Strong bearing capacity:
Safe and stable:
Competitive price:
Uniform Surface:
Customizable:
High Quality:
China MDF/Masonite cake board manufacturer are made of sturdy fiberboard.
MDF cake boards can hold up to 20kg,which is impossible for corrugated cake boards,MDF is the strongest cake board drum on the cake decorating market today,
MDF is a heavy,stable and safe cake board material, they Provides a durable and solid foundation for your cakes.
Generally speaking, MDF mdf cake base are denser and therefore heavier, providing security for the transport of cakes.
Unlike corrugated board, Cake board material---MDF is more resistant to bending forces than corrugated board (like wooden cake boards) and is heavier, more stable and safe to transport cakes.
And we do our best to ensure that every product is food safe cake board covering and available to you, and of course, our cake board factory all bakery packaging materials are food grade.
China cake board MDF manufacturer making cake board unlike solid wood, the cost is more competitive , and it is  China food grade MDF cake board
Since it is superior to corrugated paper in both cost and quality - "superior quality",as a cake board manufacturer we will provide you with a wholesale price list.
Provides a clean feel and no porosity of cardboard. Very smooth and suitable for decoration in various finishes.
No need to cover the cake board mdf personaliza do with fondant, helping you save time and money and the foil coating on the surface of the Masonite drum pads is grease-resistant, water-repellent and food-safe.
MDF material is easy to cut, with uniform structure, moderate density, smooth and delicate board surface, easy to handle various finishes.
Here you can customize your wedding cake board with your company logo. These MDF cake boards with custom logos can help you increase your brand awareness when MDF cake boards come with a logo.
We have high quality MDF cake boards made of sturdy Masonite 4-5mm thick. Great for cake bases and multi-layer cakes. Available in round and square and black, white, gold, silver foil or wood, grass and other prints.
Masonite cake boards are not only beautiful in appearance, they are 2-6mm thick, but are very strong and sturdy enough to support the enormous weight of larger, heavier cakes.
Available in many different designs, colors and sizes, including 8", 10" or 12", our Masonite cake boards can be wiped clean and reused when you need them, making them a cost-effective and practical option .
No matter the size or height of the cake you bake, or how you choose to decorate it, we've got a cake board for you. It is recommended to purchase a cake board 1-2 inches larger than the cake so that you can DIY decorations around the cake.
Check out our cake boards mdf collection to find cake boards with more strength and durability.
multi-size mdf cake board
china customize mdf cake board
wholesale mdf cake board paper
What is a custom MDF cake board?
We make wholesale mdf cake board that don't need to be covered with fondant! These china customize mdf cake board are made of Medium Density Fiberboard and are available in 2mm, 3mm, 4mm, 6mm and 12mm thickness with custom thicknesses available.
Our china round MDF cake board is very sturdy enough to provide a cake base for tiered wedding cakes and other celebratory cakes such as birthdays, anniversaries and baby showers.
We customize exclusive solutions for our customers. Enhance your brand with wholesale personalized cake boards and cake boxes from the best custom bakery packaging wholesale factory.
To get the best return on your marketing campaign investment, our team of professionals will help you design and build your branded products together that provide ongoing promotional appeal while being useful to customers in their daily lives.
When it comes to branding with a logo, these custom logo MDF cake boards can help you increase your brand awareness.
Customers who generally have their own cake shop usually purchase cake boards with custom logo cake boards to increase brand awareness.
If you're looking for a mdf cake board manufacturers, our custom MDF cake board, browse the rest of our extensive range of china cake board mdf, as well as more cake box options for safe transport and display of your cakes.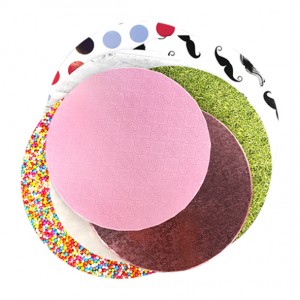 MDF material is actually a common medium density fiberboard.
Materials

MDF, aluminum foil, white paper

Size

4inch-30inch

Thickness

2mm, 3mm, 4mm, 5mm, 6mm

Design

-Untextured or textured (regular textures: Grape, Maple, Rose, Lenny)

-Smooth or matte

Practice

wrap edge

Regular colors

silver, gold, white, black (more color OME for you)

Shape

round, square, rectangle, heart(more shape OME for you)

Packing

regular 25 / shrink bags (or according to customer's request)

MOQ

500PCS/size
How to customize wholesale MDF cake board?
In this mdf cake board supplier offer the colorful MDF cake board we also is a mdf box supplier ,our product will be more favored by consumers in the baking market.
It is one of the China's best cake board wholesale suppliers. The following is a brief introduction to the customization process of China mdf cake board manufacturers.
First of all, it is important to find a professional custom wholesale cake board manufacturers.
A detailed description of different Shapes MDF Cake Board customization requirements to ensure that manufacturers do not misunderstand custom shapes, quantities, sizes and thicknesses.
Production samples are then confirmed and final requirements and order details can be confirmed through a final proforma invoice.
China Customize MDF Cake Board manufacturer can arrange the production.
Of course, there will be the cost of sample production, but both sides can reach an agreement.
At this stage, it is the test of cake board manufacturers' ability to customize! When the sample is satisfactory, we can place an order for production.
Finally, mdf wholesale suppliers a mass production contract is signed.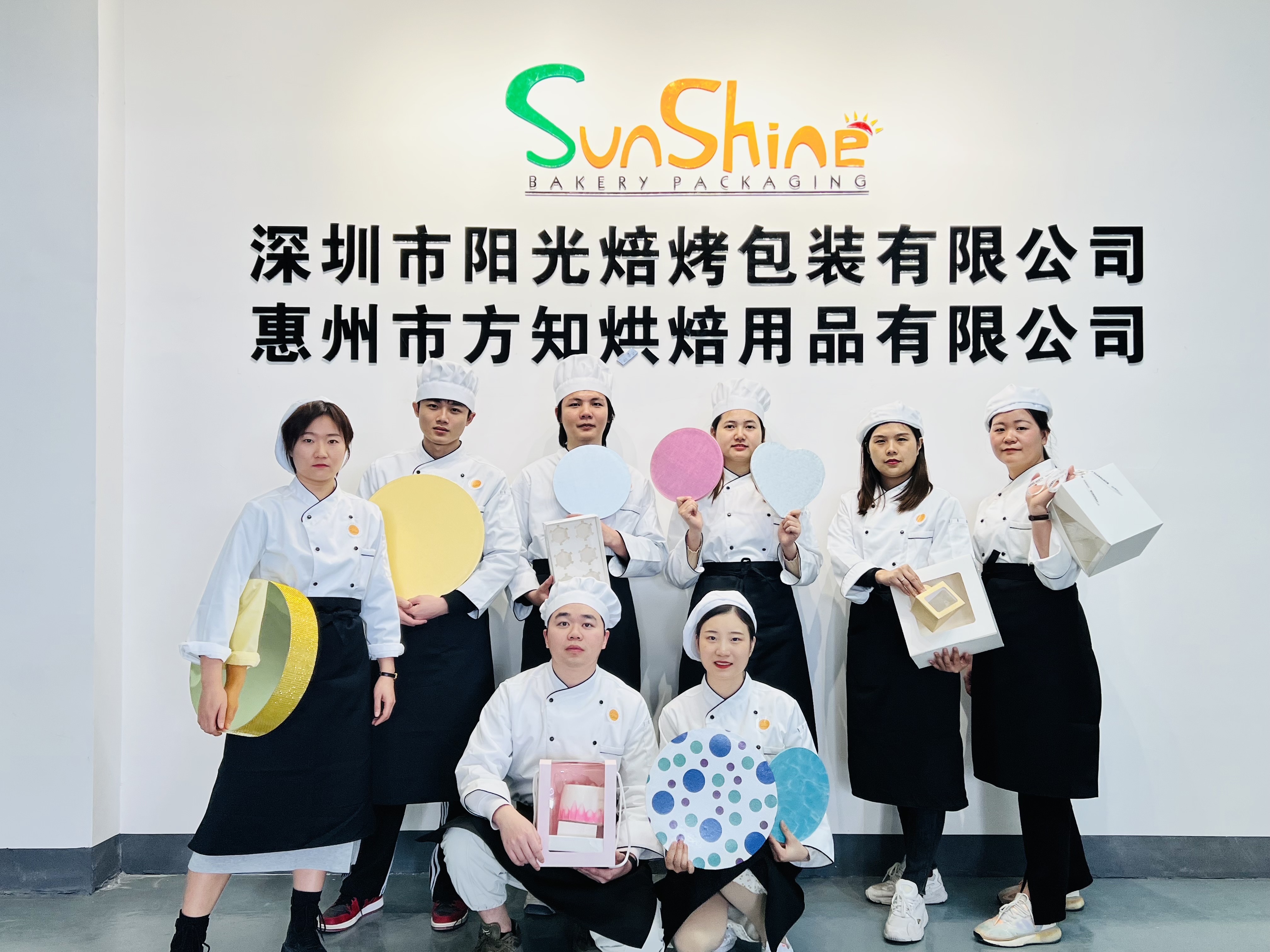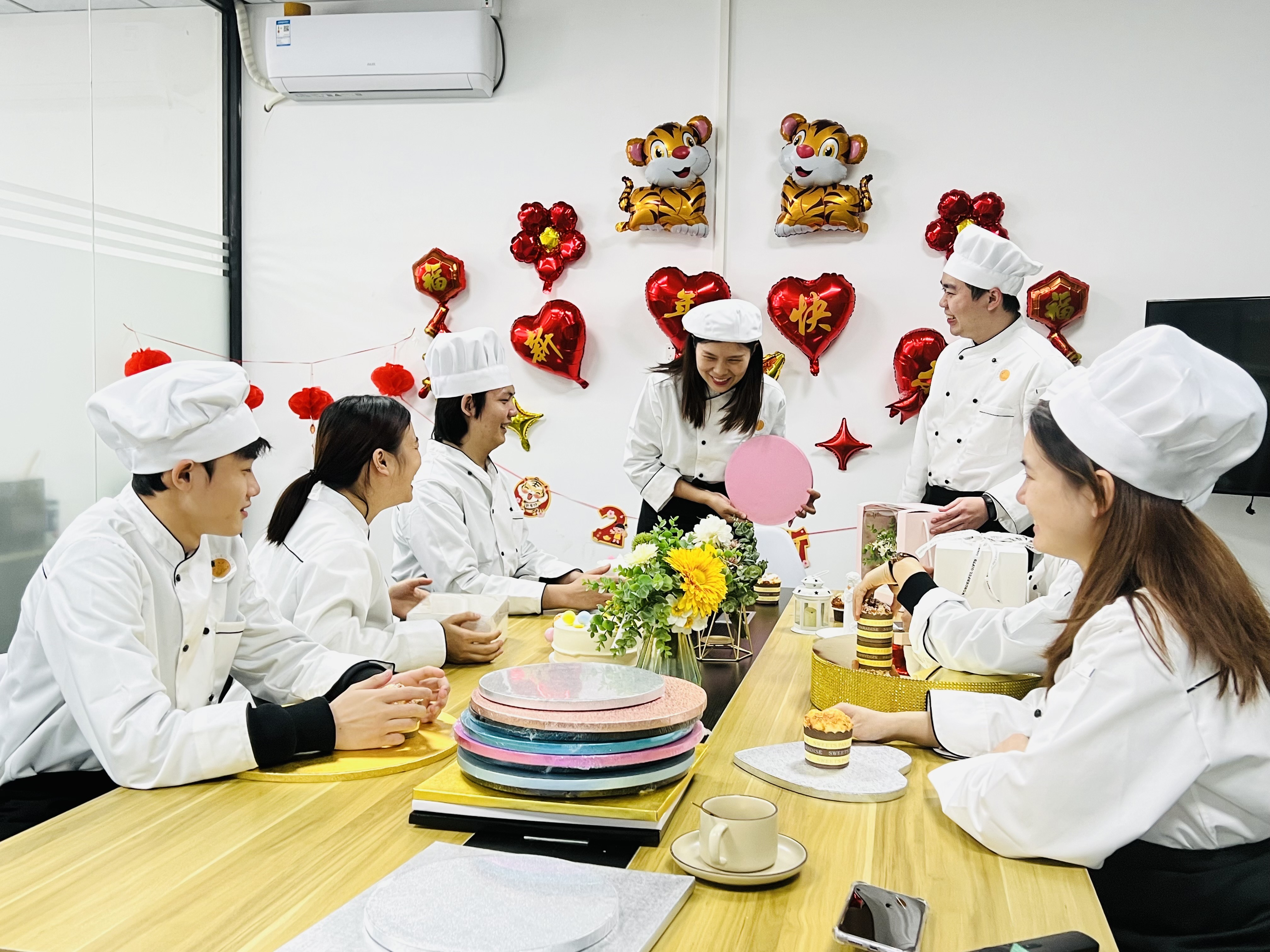 Mono Pastry Board- Ideal for dessert cakes between layers, lighter layer cakes, etc. Not suitable for heavy cakes or layered cakes.
Cake Base Board - Made from solid double grey cardboard with a glossy finish, it is cost effective and looks great. They are suitable for small cakes with minimal bending.
Cake Drum - 12mm thick cake board for small to medium cakes. A cheaper and more cost-effective option without compromising on style.
Masonite Boards - Made of solid wood fiber boards, they are suitable for all styles of cakes and are sturdy enough to hold overweight cakes.
Matte has a dry paper finish that looks more premium and classy, ​​the glossy finish and extra sheer glossy lamination make it a more oil-resistant, smudge-free finish that's easy to wipe off too!
When cleaning MDF cake boards, detergents should not be used, just a simple wipe with water and paper towels is enough, because we have already carried out disinfection treatment at the time of production, and we do our best to ensure that each product is food safe and available to you.
Finished with a beautiful sheen, unlike cheap corrugated paper. Masonite drum boards are grease-resistant, food-safe and won't bend, they provide a long-lasting, solid foundation for your cakes.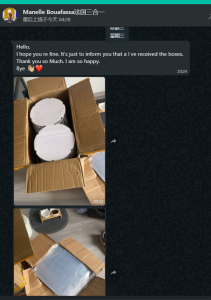 Received the boxes, So happy
I love them.They are beautiful,great quality and easy to put together.
"Thank u Fiona.Say thank u.To everybody.There who worked making.My cake drums."