As a baking packaging supplies company with more than ten years of experience, we aim to provide customers with one-stop services for baking packaging supplies. From the early design, production, packaging, inspection to shipment, we can provide customers with a full range of support and services, so that customers just make an order to us, then they don't need to concern other items, the rest of the things left to us to take care of.
Whether it is cake boards, cake boxes, cupcake boxes, cake accessories or baking machines, we can offer our customers a wide range of products to choose from. We can also give you some market information, such as what product is popular in the European market recently? What items are the new one but full of market potential, then you can know clearly to the market, and adjust the sales way in time. In this article, we will detail how to choose the right baking packaging to help customers make the best packaging decisions for their baking products. 
The first part: Understand the product grade, color system and target market
Before choosing the right baking package, customers need to know the grade, color and target market of their products.
Product grade is usually related to price, material and craftsmanship level, while color system is related to the color and style of the product. Understanding the difference in product grade and color scheme can provide guidance for customers to choose the appropriate packaging and be able to better meet the needs of the target market and consumers.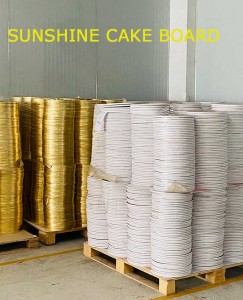 The Part Two: Choosing the right material, style and size
When choosing baking packaging, customers need to consider the material, style and size of the product to ensure that the packaging can perfectly display and protect the product.
1.Material selection:
The thickness of the cake boards should be selected according to the weight and texture of the product. A light base is suitable for sponge or light cheesecake, such as cake base board.while a thick base is suitable for cream or layered cakes, such as cake drums or MDF boards.
Cake box can choose from corrugated cake box, cardboard cake box or PET material cake box. Corrugated cake box is suitable for large cakes or need extra protection, the normal size is 10x10x12inch, 12x12x12inch,14x14x14inch and so on. Cardboard cake box is suitable for general size cakes, and it is the most normal design, also the most cost effective. No matter the unit price or the shipping cost, this one is very reasonable. And if you want to print your logo or other pattern on the box, it is also okay, this material is smooth to add the printing. Besides ,as for the clear cake box which is made by PET material, it has high transparency, good heat resistance and other characteristics, suitable for occasions that need to show the appearance of baked products.
2.Style selection:
According to the characteristics of the product and brand image, customers can choose different styles of packaging. A beautifully designed cake box or cupcake box can catch the eye of consumers and highlight the brand image.
Customized printing and personalized design is also an option to print brand logos, product information or product-related patterns on the packaging, increasing the appeal and recognition of the package.
3.Size fit:
Consider the size and shape of the product and choose the appropriate packaging size to ensure that the product can be fully contained, safely transported and well displayed. Special shaped products may require custom packaging to ensure fit and protection. Such as, normally we use a 12inch cake board to put an 10inch cake, then put them into a 12inch cake box. As for the height, you may consider the height of the cake plus the cake topper, then decide the final height the cake box, otherwise, the cake will be damaged when put into a smaller box, that is not good.
The third part: set off the product characteristics and functional requirements
In addition to the basic packaging requirements, customers can also consider some special factors to better set off the characteristics of their bakery products and meet the functional requirements.
1.Brand image and positioning:
Packaging is an important medium to display brand image and product positioning. Choose packaging that matches the brand image and product style to create a consistent visual effect and consumer impression.
2.Target market and consumer preferences:
Understand the preferences of the target market and consumers and choose packaging that matches their tastes and needs. Different regions and consumer groups may have different preferences for packaging styles, materials and functions. Some countries prefer to the large but cheaper cake, you have to sell the large size cake box and cake boards, otherwise no one will buy your cake, so you have to know the consumer preferences in your market, then use suitable bakery packaging products.
3.Packaging function requirements:
Consider the functional needs of packaging, such as product protection, ease of use and portability. Special requirements can choose packaging with sealing performance or shock protection to ensure the quality and integrity of the product.
4.Sustainable development:
Consider using sustainable packaging materials, such as recyclable or biodegradable materials, to reduce environmental impact and meet consumer concerns about sustainability. 
Choosing the right baking package is an important part of ensuring the success of product sales and brand image. By understanding product grades, colors, target markets, consumer needs, functional requirements, and working with suppliers, customers can make informed packaging choices. As a company with rich experience in baking packaging supplies, we are committed to providing customers with one-stop baking packaging services to help customers find the most suitable baking packaging solutions, and achieve successful packaging and brand promotion of products. Whether it is a cake board, cake case, cupcake case or other baking packaging supplies, we will provide our customers with professional advice and support to create unique and eye-catching baking product packaging.
---
Post time: Sep-27-2023