Cupcakes are a very common dessert in our daily lives. Unlike other common desserts, tartlets can be stacked one on top of the other, but cupcakes are often topped with cream and icing, or decorated with cupcake toppings.
These all lead to some limitations in the placement of the cupcakes, but the cupcake holder perfectly solves this problem.
Ideal for serving so many cupcakes at once, it's perfect for weddings, dinner party desserts, children's parties, and your workplace's morning tea. 
If you are new to this, then we've put together this handy guide to the basics of covered cupcake stands to help you along the way to finding the right stand for you.
In a nutshell, a cupcake stand is a raised platform or base used to hold your cupcakes, desserts. 
From cupcakes to multi-tiered wedding cakes, these stands are made from a wide range of materials, from wood to professionally made super-polished acrylic, and come in a wide range of styles, shapes and sizes, giving you the ultimate choice and flexibility when looking for a stand to match your design.
With stand options, we pride ourselves on being a professional manufacturer with 10 years of experience in bakery products, and use that knowledge to give you more ideas on how to choose a cupcake stand to meet your needs.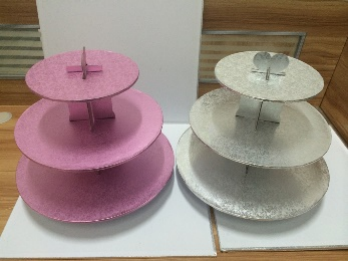 What's the material of the Cupcake Stand?
The price of cupcakes representing different materials may vary from material to material. There is a wide range of metals, ornate glass, acrylic and cardboard.
The use of cardboard cupcake stands is also becoming more common as many countries have now started to ban plastic products and focus more on food safety. And the cardboard material should be much lighter. It is really the first choice at home, and is especially good for family afternoon tea, where the dessert is often made for use.
Also, either material can be easily removed and folded, making it easier to store. In addition to placing the cupcakes, you can also use the cupcake stand to place the sushi and some other small cakes, which is really not too convenient.
Frequent use may require a lot of cleaning and we need to consider cleaning friendly materials, metals, acrylic, glass, etc. are preferred; Or for items that do not require constant use and extensive cleaning, cardboard is preferred.
Cardboard is also divided into many types. Materials commonly used for cake boards can also be used for cupcake stands, such as corrugated cardboard, double gray cardboard, and MDF boards can be used for cupcake boards. So you can also make a lot of different thicknesses, sizes, and styles. 
Compared to other materials, I think paper is more compelling and also very suitable for people to do DIY with. The cost is low and the trial-and-error rate is even lower, so those who want to make their own can exercise your practicality by buying some cardboard to follow the template for DIY cupcake stands.
What type of the Cupcake Stand?
Cupcake stands are generally wide to narrow from bottom to top, so they are more tree-like. At least 2 layers, and at most 7, 8 layers. 
Cardboard-based cupcake stands, each layer of which may be round, square, these are often made by attaching two pieces of cardboard together to make a cross stand, which is then placed into each layer of the board. The height of each layer is either the same or different and can be adjusted according to the customer's requirements.
We are now selling regular products of the same height, cartoon-style, with or without patterns, and the colours are also very varied, with a rich selection to dazzle you.
Metal-based cupcake stands, which tend to be more elaborate and pretty, are eye-catching, with tree trunks supporting scattered branches so you can clearly see what delicious dessert is being placed on a leaf.
There are cupcake stands made of acrylic or glass, which are a bit drab, showing only transparent colors, and generally a trellis-like distribution of layers, with some buckling, loading and unloading relative to the cardboard, some more complicated, some seemingly simple.
How many cupcakes does a Cupcake Stand hold?
Depending on the number of layers purchased and the size, one can fit not only a dozen but dozens of cupcakes. Because cupcakes vary in size, and the thickness (1mm, 2mm, 3mm, 4mm, 5mm or 6mm and so on) of each layer of the stand varies, it is possible to place a number depending on the real situation, but the purchase needs to be explicitly asked for.
Our regular cupcake stand can hold 15 cupcakes, and if you are not particularly concerned about how many cupcakes you have to set up, a 3-tier cupcake stand is also sufficient for a family afternoon tea.
Why would I need a cake stand?
Cupcake stands are an integral part of creating your stunning showstopper. Indeed, there are several reasons why this is an aspect of your design that should not be overlooked.
Not only does the right stand lift your cupcake to new heights, but it can also add a sense of depth, color and sophistication to ensure your centerpiece makes a lasting impression.
Your chosen stand acts as the final piece of a perfectly formed puzzle.
It has the power to pull design together and create the masterpiece you envisioned from the beginning. Whether it's for your wedding day, birthday, or simply to showcase your latest cupcake creation, there's no doubt that the perfect cupcake stand will help propel your cake design to stardom.
Trust that after reading this article, there will be more ideas on how to choose the right cupcake stand. Also, I am happy to offer a few words of advice.
We are committed to providing a one-stop shop for our customers. If there is any other interest in the topic, you can also contact us via email for a consultation. We are happy to give you more advice.
---
Post time: Sep-19-2022