Extra Large Rectangle Cake Drum Wholesale | SunShine
Product Detail
Certification
Shipping terms
FAQ
Products Video
Product Tags
A cake board is the perfect base for any celebration cake and come in a variety of thicknesses,color,size and shape.
It is fair to say that cake boards, drums and cards come in a huge range of shapes, sizes and colours.  10 inch cake board square and10 inch gold round cake board are also very hot-sales.Wholesale cake drums --- each product is very suitable for any scene and season, so it is a necessary thing in our daily life. This size is the most popular, just like a 10-inch cake board for a party of 3-5 people or several friends.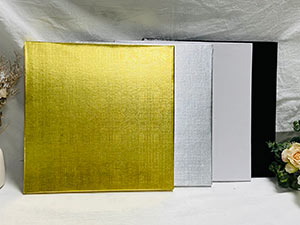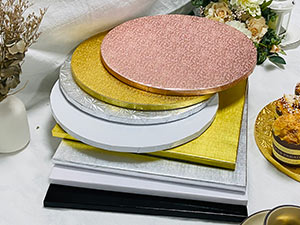 | | |
| --- | --- |
| Product name | Big size cake board  |
| Color | Sliver,Gold,White,Black/Customized |
| Material | Double Corrugated Paper Board,Solid Board |
| Size | 4inch-30inch/Customized |
| Thickness | This one is 12mm , we have 6mm,12mm,14mm,15mm,18mm,24mm for you choose /Customized |
| Logo | We Acceptable Customer's Logo |
| Shape | We Acceptable Round,Square,Rectangle,Oblong,Heart,Hexagon,Petal/Fully Customized |
| Pattern | Customised Patterns or other desgin is okay |
| Package | 1-5 Pcs/shrink wrap/Customized packing |
| Brand | SUNSHINE  |
These large cake boards are great for larger volumes of cake, or many layers.  Used at weddings or large parties.  The solid base plate allows you to safely place the cake and dessert on the cake board, so you can easily transport it.  The huge cake holder can not only be used to put cakes, but also give play to your imagination. For example, last time we went to the seaside, we took the rectangular cake board with large size, and we could use it as a drifting board on the sea. It was very interesting to use it beyond imagination.  
Thick foil cake drums are the most popular cake boards on the market because they are not only versatile, but also very strong, waterproof and oil-resistant.  Perfect for single or multi-layer cakes.  Cake drums are perfect for all types of cakes because no matter what cake we make we always have a base to transport it or decorate it. Compared with other cake boards, the sunshine cake board allows you to put the cake on it and decorate it and transport it with peace of mind, both in terms of raw materials and in every workmanship! Order bakery supplies bulk packaging, and we look forward to sharing the sweetness with delicious cakes when you use them. 
---
---
How can I track my delivery?
When your order ships, we will email your shipment tracking information where you can track your delivery. We use a premium shipping service and, like our UK parcels, this is fully traceable at every stage of your journey.
Can my order be shipped internationally?
Yes it can. We ship to all regions of the world with varying delivery times. If you need an urgent order, please contact us and we will do our best to arrange it. Everything is sent from our factory warehouse in Huizhou, China, please note that delivery times vary by your address and are for reference only. But we do our best to ensure fast and smooth delivery.
Shipping method
Generally, we ship your bulk wholesale goods by sea, small batches or samples are usually sent by DHL Express, UPS or Fedex expedited service. Orders to the US and Canada can be delivered in as fast as 3-5 business days, while other international locations take an average of 5-7 business days.
Custom Delivery Terms and Conditions
When an order with multiple items includes custom or pre-order products, the entire order will be shipped together once your custom or pre-order products are available for shipping. If you need to order a product as soon as possible, please contact us and we will be happy to assist you. 
International postage varies by location, please contact us if you would like a tailored postage quote before purchasing.
Defective product
If you think there is something wrong with the item you received, please contact us in time, and our professional business team will work with you to solve the problem. If you receive an incorrect item or an item is missing from your order, please contact me with the wrong details. Remember to include the PI we send you as this will help us expedite our search for your order details.
Can you use a cake board to stack the cake?
All layers must be flat, even and finished with buttercream or fondant before stacking the cake. Each layer should be placed on a cake board (cardboard round or other shape, we offer custom shapes and sizes) and the bottom layer should be placed on a thicker cake board to support all the weight.
Do you put the cake on the cake board?
A cake board will make your cake decorating life easier, especially when you're shipping your cake. If you're going to move the cake a little or decorate it, you'll need a cake board.
How to prevent the cake from sliding on the cake board?
Make sure to secure the bottom layer to the cake board or cake drum with a little buttercream icing. This will prevent your cake from slipping off the base.
Write your message here and send it to us