Mini Cake Base Board Rectangle Manufacturers | SunShine
Product Detail
Certification
Shipping terms
FAQ
Products Video
Product Tags
If you don't know what size of cake your cake applies to, it doesn't matter! Thankfully Sunshine bakery food packaging supplies carries a selection of greaseproof cake boards, in different sizes, 4inch-30inch round silver cake circles. If you don't know what size of cake your cake applies to, it doesn't matter! If you want a sturdy base for your amazing cake,it's very important to have a good material, high quality, and a solid cake board. This round cake tray has a laminated layer that prevents the circle board from absorbing grease and moisture and is perfect for presenting your stunning cakes.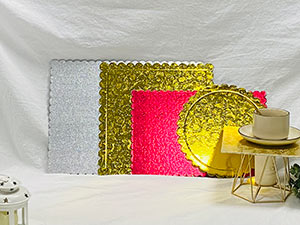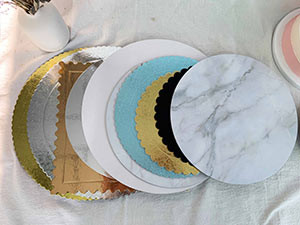 | | |
| --- | --- |
| Product name | Mini cake base board  |
| Color | Sliver,Gold,White,Black/Customized |
| Material | Masonite Board |
| Size | 4inch-30inch/Customized |
| Thickness | 2mm,3mm,4mm,5mm,6mm/Customized (more color OEM for you) |
| Logo | Acceptable Customer's Logo |
| Shape | Round,Square,Rectangle,Oblong,Heart,Hexagon,Petal/Fully Customized |
| Pattern | Customised Patterns |
| Package | 1-5 Pcs/shrink wrap/Customized |
| Brand | SUNSHINE |
Life is like a party, and whether you're hosting a party or need a special treat, the sun is ready for you. For over 10 years, we have supplied a wide variety of cake wrap decorations to home decorators, bakeries and cake shops. We have all the essentials for your cake, dessert or any other pasty project.
Arrange your delicious cakes and pies in these mini cakes from Sunshine Baseboards and Boxes, this round original paper cake dessert display board can be used to decorate cakes, pastries, birthday parties, wedding catering, and is a beautiful way to display your mini cakes and pastries, Make your party the icing on the cake and more atmosphere. We have beautiful and elegant designs perfect for wedding cake designs, birthdays, anniversaries or other occasions, Sunshine is a well-known china cake base board supplier.
---
---
How can I track my delivery?
When your order ships, we will email your shipment tracking information where you can track your delivery. We use a premium shipping service and, like our UK parcels, this is fully traceable at every stage of your journey.
Can my order be shipped internationally?
Yes it can. We ship to all regions of the world with varying delivery times. If you need an urgent order, please contact us and we will do our best to arrange it. Everything is sent from our factory warehouse in Huizhou, China, please note that delivery times vary by your address and are for reference only. But we do our best to ensure fast and smooth delivery.
Shipping method
Generally, we ship your bulk wholesale goods by sea, small batches or samples are usually sent by DHL Express, UPS or Fedex expedited service. Orders to the US and Canada can be delivered in as fast as 3-5 business days, while other international locations take an average of 5-7 business days.
Custom Delivery Terms and Conditions
When an order with multiple items includes custom or pre-order products, the entire order will be shipped together once your custom or pre-order products are available for shipping. If you need to order a product as soon as possible, please contact us and we will be happy to assist you. 
International postage varies by location, please contact us if you would like a tailored postage quote before purchasing.
Defective product
If you think there is something wrong with the item you received, please contact us in time, and our professional business team will work with you to solve the problem. If you receive an incorrect item or an item is missing from your order, please contact me with the wrong details. Remember to include the PI we send you as this will help us expedite our search for your order details.
What do you call the cardboard under a cake?
The card board under the cake is called the cake board,which is a flat support placed under the cake for easy lifting and transportation.
What can I use as a cake board?
Wrap the cardboard with cardboard and food grade foil (or baking foil) . This can be found at the cake embellishments store, or you can buy it here. You can even make it food-safe with decorative paper or wrap it in plastic.
What size cake board do I need for a 4 inch cake?
When you make the bottom of the cake, you should leave about 2-4 inches between the sides of the cake. So, your cake board should be 4 to 8 inches bigger than your cake.
What is the difference between a cake drum and cake board?
The main difference between the two is their thickness. The roughly 12mm/12in cake drum is perfect for adding ribbons around for extra decoration.
Write your message here and send it to us