Cake Cardboard Base Diy Wholesale Suppliers | SunShine
Product Detail
Certification
Shipping terms
FAQ
Product Video
Product Tags
Sunshine cake base board factory produce cake base board and drum is the ideal baking accessory to give your baking projects a professional look. This set of round cake boards features stylish scalloped edges and is gold laminated, providing an exquisite, shimmering platform for your cakes to sit on while adding a touch of regal elegance.
Essential to a flawless presentation, display your cakes, gingerbread houses, and even craft projects with these cake boards confidently. The final appearance of the beautiful cake board will also bring you self-confidence, and you will like and fall in love with the process of making cakes, which is pleasing and comfortable.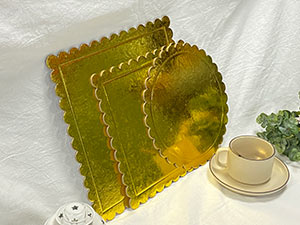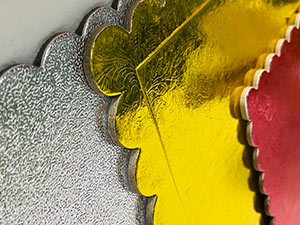 | | |
| --- | --- |
| Product name | Small cake base board  |
| Color | Blue,Sliver,Gold,White,Black/Customized |
| Material | Double Grey Board |
| Size | 4inch-30inch/Customized |
| Thickness | 2mm,3mm,4mm,5mm,6mm/Customized (more color OEM for you) |
| Logo | Acceptable Customer's Logo |
| Shape | Round,Square,Rectangle,Oblong,Heart,Hexagon,Petal/Fully Customized |
| Pattern | Customised Patterns |
| Package | 1-5 Pcs/shrink wrap/Customized |
| Brand | SUNSHINE |
Our mini cake boards are of high quality, the cake base is made of high quality cardboard; no need to worry about extra cleanup, easy to throw away after use, very convenient and fast, healthy and hygienic. The cake board provides a sturdy support for the golden laminated cake ring and a sturdy platform for your cakes to rest on, and the Sunshine Cake Base features a metallic gold finish that adds a touch of elegance to your homemade baking projects and looks very classy and precious.Do not hesitate to order our china bakery packaging supplies!  You'll love it, one of the essential tools to make you fall in love with baking.
Sunshine cake boase bord recylable and easy clean up – The gold lamination helps to keep any mess made on the top at bay and contained on the board. This makes for a super easy cleanup, simply take to tray and dispose of it Because it is also made from double grey cardboard, this round cake tray can be recycled to stay environmentally friendly. You can find deals and compare prices on cake base board at our shop. Browse & discover of Sunshine brands. Read our brand story & find best products and services.
---
---
How can I track my delivery?
When your order ships, we will email your shipment tracking information where you can track your delivery. We use a premium shipping service and, like our UK parcels, this is fully traceable at every stage of your journey.
Can my order be shipped internationally?
Yes it can. We ship to all regions of the world with varying delivery times. If you need an urgent order, please contact us and we will do our best to arrange it. Everything is sent from our factory warehouse in Huizhou, China, please note that delivery times vary by your address and are for reference only. But we do our best to ensure fast and smooth delivery.
Shipping method
Generally, we ship your bulk wholesale goods by sea, small batches or samples are usually sent by DHL Express, UPS or Fedex expedited service. Orders to the US and Canada can be delivered in as fast as 3-5 business days, while other international locations take an average of 5-7 business days.
Custom Delivery Terms and Conditions
When an order with multiple items includes custom or pre-order products, the entire order will be shipped together once your custom or pre-order products are available for shipping. If you need to order a product as soon as possible, please contact us and we will be happy to assist you. 
International postage varies by location, please contact us if you would like a tailored postage quote before purchasing.
Defective product
If you think there is something wrong with the item you received, please contact us in time, and our professional business team will work with you to solve the problem. If you receive an incorrect item or an item is missing from your order, please contact me with the wrong details. Remember to include the PI we send you as this will help us expedite our search for your order details.
How do you make round cake boards?
When making cake boards at home, you can use supplies that you may already have at home. Heavy-duty cardboard, tinfoil, and even wrapping paper. By using scissors, you can cut the cardboard to the exact size you need and then cover it with wrapping paper or foil.
What can you use instead of cake board?
You can use any cardboard… Just cover it with foil before putting it in the fridge. If desired, you can join two pieces of cardboard together to form a thicker piece of cardboard. Before cutting the cardboard, measure the size you need and track it to the cardboard.
Can we make cake board at home?
Of course, making your own cake board at home is a great option in a pinch. Using a few simple objects around the house, you can get the exact size and color you need. This is an easy and inexpensive way to make your own cake board.
How do you make cake boards?
Place the cutting board of your choice on the cardboard base. Fold the wrapping paper tightly over the cardboard to create wrinkles for a beautiful, smooth, flat cover. Using tape, preferably packing tape, secure the liner to the cake board.
Write your message here and send it to us