Quarter 1/4 Sheet Paper Cake Boards Scalloped Edge Design | SunShine
Product Detail
Certification
FAQ
Product Video
Product Tags
Huge selection of Sunshine bakery packing boxes and sturdy board to hold cakes. Make any food look elegant on this silver square cake board. Rectangle cake board features a cardboard base with a silver foil finish and a scalloped edge.  Excellent to use to display all types of food. Sturdy and greaseproof! Eco-friendly and recyclable!
And it looks very advanced, every detail is handled very well, the material of the double gray board also makes the cake tray very firm and stable, you can choose the pattern or pattern you like, or you can customize the logo, we support all OEMs Serve.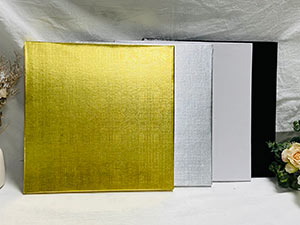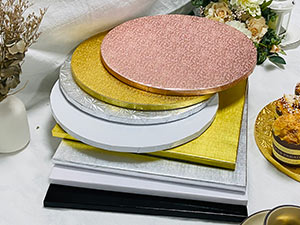 | | |
| --- | --- |
| Product name | sqaure cake base board  |
| Color | Sliver,Gold,White,Black/Customized |
| Material | Bouble Grey Board |
| Size | 4inch-30inch/Customized |
| Thickness | 2mm,3mm,4mm,5mm,6mm/Customized (more color OEM for you) |
| Logo | Acceptable Customer's Logo |
| Shape | Round,Square,Rectangle,Oblong,Heart,Hexagon,Petal/Fully Customized |
| Pattern | Customised Patterns |
| Package | 1-5 Pcs/shrink wrap/Customized |
| Brand | SUNSHINE |
Whether you own a high-end bakery or a small coffee shop that serves sweet treats, cake boards are a must-have item for cake decorators! Made with high-quality corrugated cardboard, this sturdy, grease-resistant cake pad is strong enough to hold even your heaviest cakes without getting soggy or bending. Enjoy displaying beautiful cakes with bulk quarter 1/4 sheet paper cake boards scalloped edge design at wholesale pricing.
Our factory is located in Guangdong Province, China, if you have the opportunity to come to China, we warmly welcome you to visit our workshop. Believe that we can not only bring you professional and high-quality cake boards, but also wholesale preferential prices!
When you use Sunshine cake pastry presentation, you can see cake circles are designed with beautiful scalloped edges so you can display your cake, cupcakes, muffins, specialty gourmet pizzas and homemade desserts with style; whether at parties or business trade fairs, show off your amazing work with confidence ! Believe we will bring you a pleasant experience, hope our cake board to bring you happiness, sweet feelings!
---
---
Do I need a cake board or drum?
Drum boards are much thicker than standard cake boards and are made of thick cardboard, usually around 12mm thick. Drum boards are great for heavier cakes such as large sponge cakes, fruit cakes and tiered wedding cakes.
Can you put the cream on the cake board?
Whether your cake is a naked, buttercream, ganache or fondant cake, a covered cake board not only enhances your cake but also adds to the design and overall look of your creation.
Is a cake board necessary?
Cake boards are useful when decorating and moving cakes, which is why you need one under each cake layer. If you don't use a cake board under the cake then when you move the cake it will make a big difference and it will break and ruin your cake.
How tall should a 2 tier cake be?
6″
A two-layer cake means you need two different-sized cakes (made up of layers). The standard size is usually a 6-inch cake stacked on top of an 8-inch cake, and it will serve about 40-50 people, depending on how big you cut it.
Write your message here and send it to us