Single Portion Mini Dessert Cake Boards Wholesale | SunShine
Product Detail
Certification
FAQ
Product Tags
Sunshine team a professionals will help you count on our cake boards to showcase your cake work. Our cake base sturdy boards are made durable, freezer-safe, and will not absorb moisture.
Made of food grade cardboard material, safe and healthy, eco-friendly; No need to worry about harmful chemical leaching in your cakes. Just focus on your craft.
You can see the production process of our cake boards in the information about us. We are open and transparent in every step of the production process, which brings trust and professionalism to customers. So you can use and sell our cake boards with peace of mind. We are honored to contribute to your cake business. Of course, except for cake boards, you can contact us for all cake packaging to arrange one-stop shopping for you. Solutions, Sunshine professional team at your service.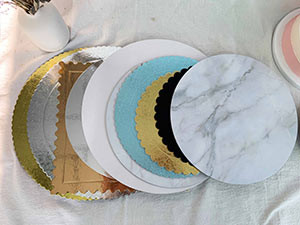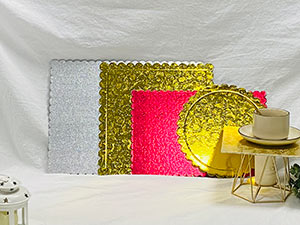 | | |
| --- | --- |
| Product name | Mini dessert cake base board  |
| Color | Red,Sliver,Gold,White,Black/Customized |
| Material | Double Grey Cake Board |
| Size | We can do 4inch-30inch or Customized size  |
| Thickness | 2mm,3mm,4mm,5mm,6mm/Customized (more color OEM for you) |
| Logo | Acceptable Customer's Logo and more OEM for you |
| Shape | We have Round,Square,Rectangle,Oblong,Heart,Hexagon,Petal/Fully Customized Shaped |
| Pattern | Customised Patterns |
| Package | 1-5 Pcs/shrink wrap  or Customized packing  |
| Brand | SUNSHINE |
MDF wood also offers additional advantages such as thermal and acoustic insulation, which is why it is often used as wall, furniture or door cladding. MDF boards are often compared to chipboard and many people wonder which of the two materials is better. In general, the two types of wood have a similar use, but it is interesting to highlight some additional aspects:
1- Bending: MDF boards are much more resistant to bending forces than chipboard. There are several types of thickness depending on the weight they must support. For a Cake Board tray, it will be enough to choose between a thickness of 3 or 6 millimetres, depending on the size and weight of the cake.
2- Density: in general, MDF boards are more dense and therefore heavier, offering safety for the transport of cakes.
3- Finishing: the MDF is smooth and is perfect to decorate it with all kinds of finishes.
These mini cake board can be used for serving delicate appetizers, desserts, and other culinary treats. The sturdy gold foil board looks luxurious and delicate, and it is perfect for decorating and transporting cupcakes and other desserts. When it's very convenient for you to use, I'm sure you'll fall in love with them! Beautiful, good quality, safe quality products everyone will like it!You can also browse and learn about other products in our menu bar, all products are food-safe, both the end user and the salesperson for sale will love this product.
---
---
What is the cardboard under the cake called?
Use a cardboard cake board for support under each cake layer. They can also be used as display boards, but only for smaller and lighter cakes. Useful when decorating and moving cakes to safely transport your artwork.
What can I use as a cake base?
If you are planning to make a large cake board to hold a large cake, it is best to use a piece of plywood wrapped in foil as the base. Cardboard alone may not hold the weight of the cake.
What are cake board made of?
Corrugated cardboard, double gray cardboard, MDF and so on.
What is the purpose of the cake board?
A cake board is a stand placed under the cake for easy transport. Cake boards come in different sizes and shapes and can be disposable or reusable. They can be round, square or rectangular.
Write your message here and send it to us