15 Inch Cake Board Round Square Silver Foil Roll Custom | SunShine
Product Detail
Certification
Shipping terms
FAQ
Product Video
Product Tags
Sunshine cake board for cakes and bakery items. 15 inch cake booard have glossy white,black and gold cake board suitable for showcasing your finished cake!  Available in 6mm-24mm and cake board sizes in 4inch-30inch. This glossy white and black cake board makes your cake stand out.
You can choose the size according to your needs, or you can contact our sunshine team, we can give you reference and recommend the size and pattern according to your country and our sales situation, and help your business to become better.Success is achieved by each other. We hope to support each other like friends and create a better and brighter future together! !
| | |
| --- | --- |
| Product name | 15 inch cake board  |
| Color | White and Black/Customized |
| Material | Corrugated Foil Paper |
| Size | This one is 15 inch , we have 4inch-30inch/Customized |
| Thickness | 12mm or Customized thick |
| Logo | Acceptable Customer's Logo/ OEM service |
| Shape |  We can do Round,Square,Rectangle,Oblong,Heart,Hexagon,Petal/Fully Customized Shape |
| Pattern | Customised Patterns or other |
| Package | 1-5 Pcs/shrink wrap/Customized packing accpet |
| Brand | SUNSHINE |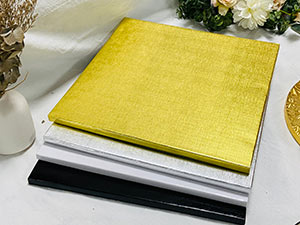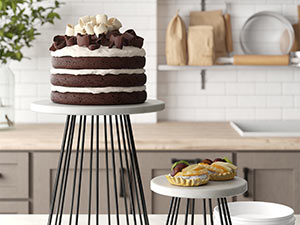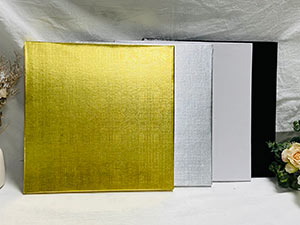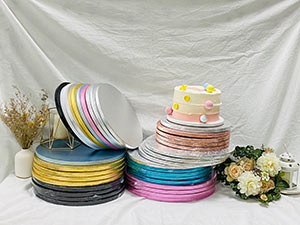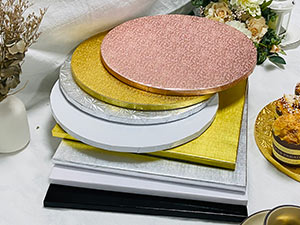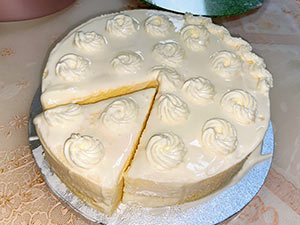 We generally use a convenient 5-pack of 15-inch cake board drums with smooth sides and top, we'll pack it in a shrink bag.   We sell 15 inch round cakes for the price as a single item or a pack of 5, which can save you money, and if you're a regular cake decorator, this way of wrapping is totally your best bet.   Of course, if you need customized packaging, we can provide corresponding solutions according to customer requirements. Whether it is packaging or design, our reputable bakery packaging supplies can meet your customized needs.Sunshine and you work hard to manage the present and create a better future together.
---
---
How can I track my delivery?
When your order ships, we will email your shipment tracking information where you can track your delivery. We use a premium shipping service and, like our UK parcels, this is fully traceable at every stage of your journey.
Can my order be shipped internationally?
Yes it can. We ship to all regions of the world with varying delivery times. If you need an urgent order, please contact us and we will do our best to arrange it. Everything is sent from our factory warehouse in Huizhou, China, please note that delivery times vary by your address and are for reference only. But we do our best to ensure fast and smooth delivery.
Shipping method
Generally, we ship your bulk wholesale goods by sea, small batches or samples are usually sent by DHL Express, UPS or Fedex expedited service. Orders to the US and Canada can be delivered in as fast as 3-5 business days, while other international locations take an average of 5-7 business days.
Custom Delivery Terms and Conditions
When an order with multiple items includes custom or pre-order products, the entire order will be shipped together once your custom or pre-order products are available for shipping. If you need to order a product as soon as possible, please contact us and we will be happy to assist you. 
International postage varies by location, please contact us if you would like a tailored postage quote before purchasing.
Defective product
If you think there is something wrong with the item you received, please contact us in time, and our professional business team will work with you to solve the problem. If you receive an incorrect item or an item is missing from your order, please contact me with the wrong details. Remember to include the PI we send you as this will help us expedite our search for your order details.
It is important to use the appropriate size of the cake boards and cake boxes. We have a large number of professional-quality cake boards and cake boxes, they are an indispensable part of your cake. They increase the design, which is important to ensure that the cake is not damaged during storage or transport.
There are no set rules for the size of cake you need. All of this depends on the cake's style, shape, size and weight. Sometimes, cake trays can be part of the cake's feature or design, while others are purely functional and serve as the base of the cake. Cake boards are also great for support, which can help get a professional look, especially if this is your business.
Actually, when acting as a cake board, you should allow about 2 "to 4″ gaps on each side of the cake. So, your cake should be more than 4 "- 8″ than your cake.
When making cake boards at home, you can use supplies you may already have at home. Heavy duty cardboard, tinfoil, even wrapping paper. By using scissors or an accurate knife, you can cut the cardboard to the exact size you need and then cover it with wrapping paper or aluminum foil.
Write your message here and send it to us